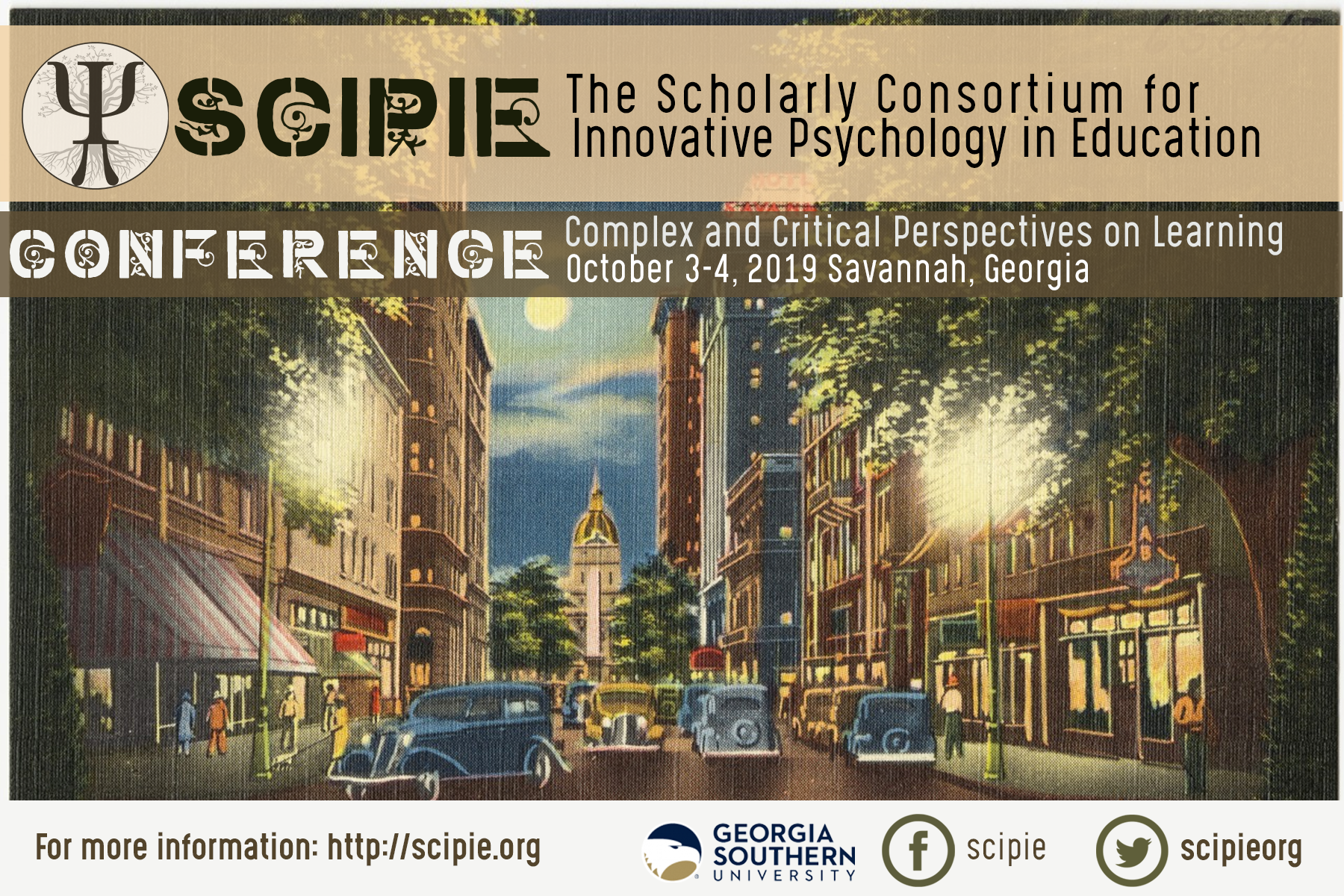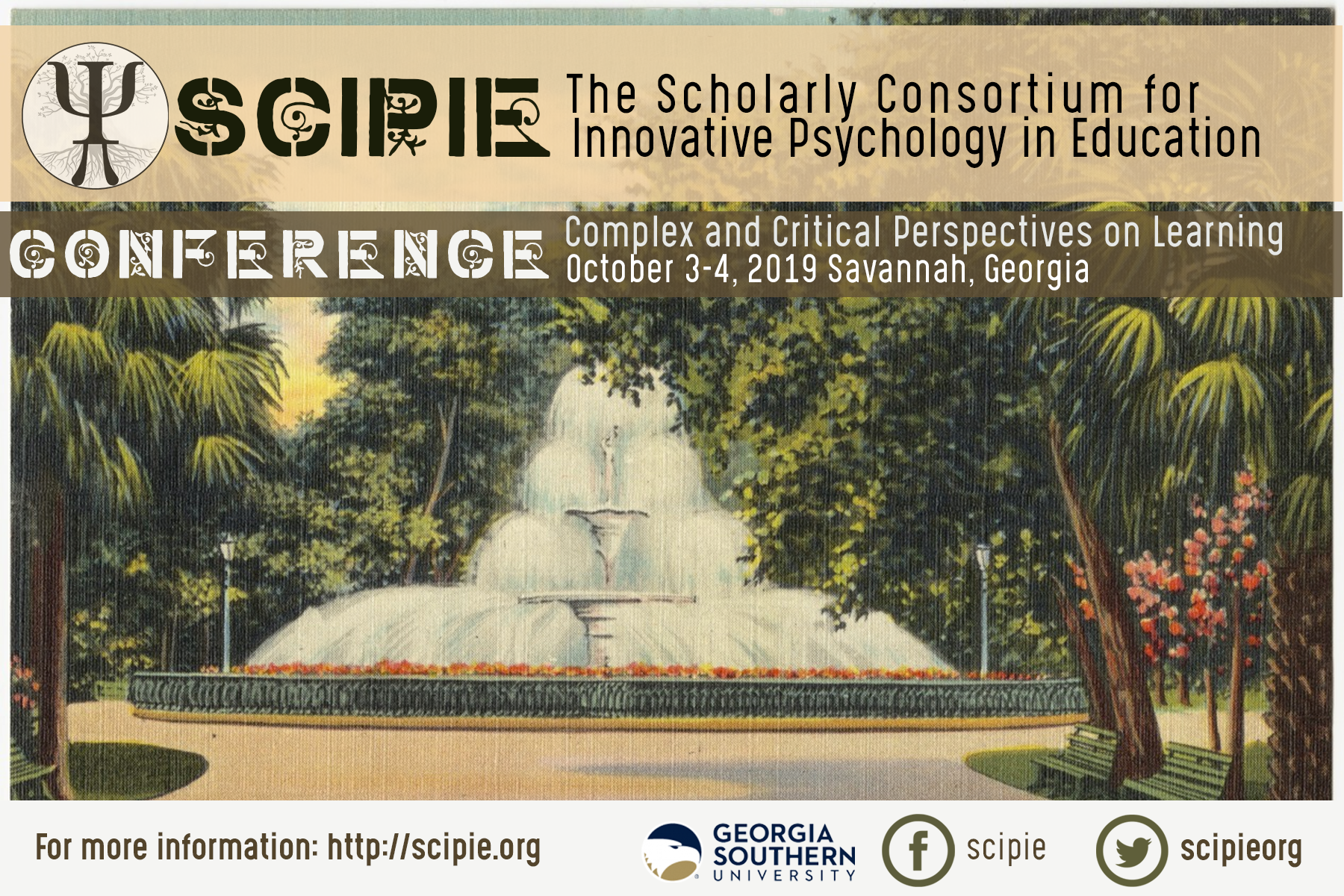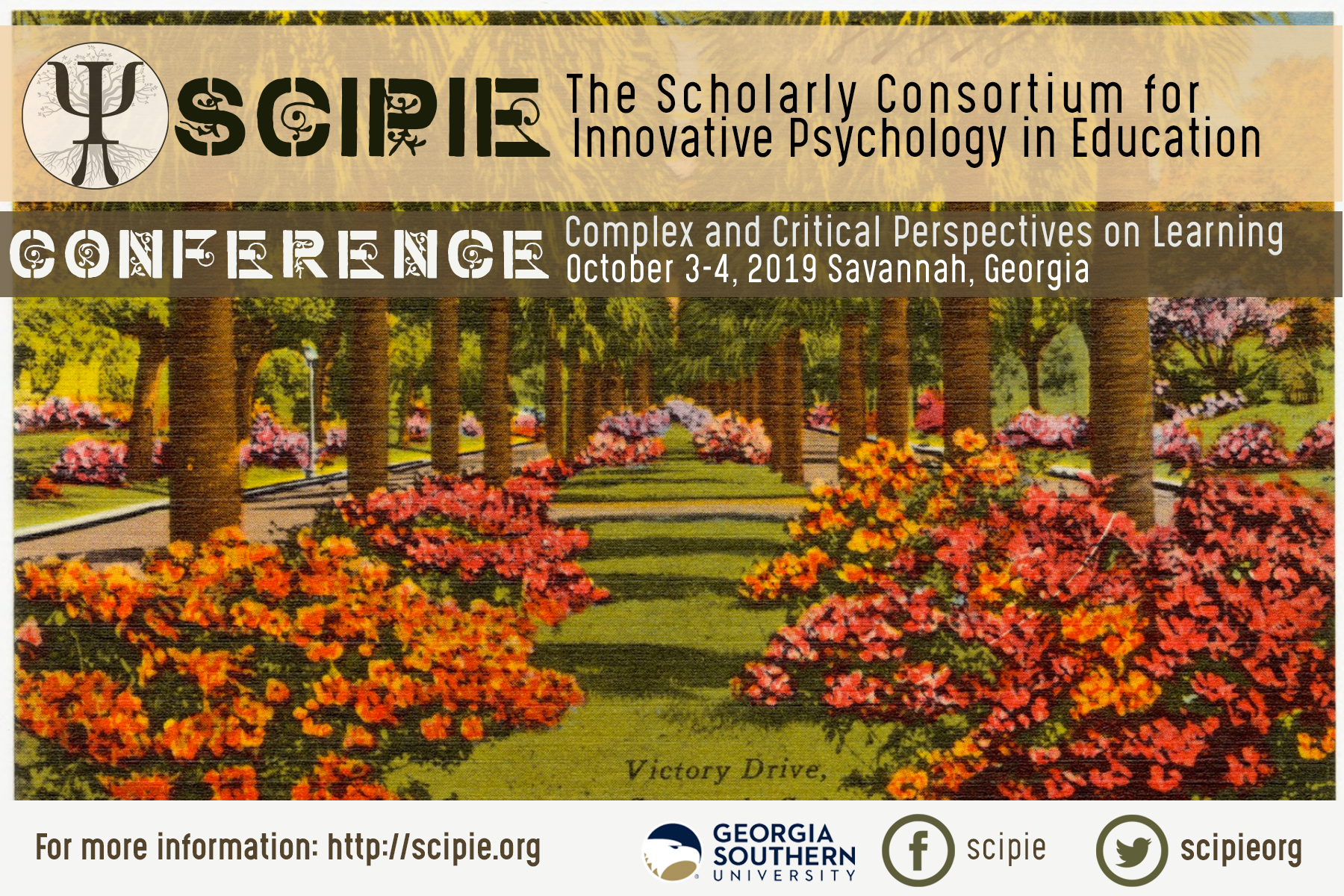 The SCIPIE board is pleased to announce the 8th biennial conference of the Scholarly Consortium for Innovative Psychology in Education (SCIPIE) was a success! The conference was sponsored by the Georgia Southern University College of Education. It was be held on October 3rd-4th 2019 at the Embassy Suites by Hilton Historic Savannah in downtown Savannah. The theme of the conference was, Critical and Complex Perspectives on Learning.
The conference was held in conjunction with the executive committee board meeting of Division 15 of the American Psychological Association. It was a special privileged to collaborate with the leadership of APA division 15 for the weekend!
SCIPIE conferences traditionally focus on complex problems found at the intersection of education and psychology. The emphasis is on driving theoretical and methodological innovation through exploration of tensions in educational psychology and related fields. SCIPIE offers a unique conference experience due to its interactive structure. Participants are encouraged to bring works in progress and unresolved research issues as a foundation for session content and discussion. The conference is also geared specifically to provide early career scholars and graduate students an opportunity for meaningful participation in conference sessions.
Award Winners!
Each year SCIPIE awards a "Founders Award" and three "Graduate Student Poster Awards" for the most innovative presentations at the conference. The award winners are determined by a board review of the presentations. This year we had many high quality presentations, but clear winners emerged. We would like to congratulate our Winners!!!
The Founders Award:
The Possibility and Peril of using multimodal physiological approaches to measure Academic Emotion, Race and Gender Bias, & Motivation
Session co-leads: Idalis Villanueva (Utah State University) & Jenefer Husman (University of Oregon)
Session co-authors: Matthew C. Graham (University of Oregon), Darcie Christensen (Utah State University), Md. Tarique Hasan Khan (Utah State University); Session Facilitators: Keith Zvoch (University of Oregon); Makseem Skorodinsky (University of Oregon), Lisa Linnebrink-Garcia (Michigan State University)
Graduate Student Poster Award:
Ian Thacker (University of Southern California): The Influence of Numerical Estimation Skills and Epistemic Cognition in Conceptual Change
Graduate Student Poster Award:
Abigail Stephan (Clemson University): Transferring Learning in the Family and Community to the Classroom: A Review of Intergenerational Learning Experiences for Marginalized Youth
Graduate Student Poster Award:
Melissa Kuhn (Old Dominion University): A Complex Systems Perspective on Cases of Testing Irregularities in School Systems
Conference Location
The conference was held at the Embassy Suites Savannah. In the heart of Savannah, the conference hotel was within walking distance from many wonderful restaurants, eateries, and bars, the SCAD Museum of Art, the Telfair Museums, the Chatham County Courthouse, and many historical sites. This hotel was also within close proximity of Georgia State Railroad Museum and Savannah Visitor Center. Wired and wireless Internet access is complimentary, and the hotel contains recreational opportunities including an outdoor pool, and a fitness center.
Keynote Speaker: Dr. Jessica DeCuir-Gunby
Dr. Jessica DeCuir-Gunby was the keynote speaker for the 2019 conference. Dr. DeCuir-Gunby is a Professor of Educational Psychology and Director of Graduate Programs in the Department of Teacher Education and Learning Sciences at NC State University. Dr. DeCuir-Gunby's research interests include race and racial identity development, critical race theory, mixed methods research, and emotions in education.
Dr. Jessica T. DeCuir-Gunby is a native of Baton Rouge, Louisiana. She attended Louisiana State University where she was a recipient of the AP Tureaud Scholarship Award, the LSU Outstanding Freshman Award, the Outstanding Undergraduate in Psychology Award, and was a Ronald E. McNair Scholar. In 1998 she earned her BS degree with a double major in Psychology and Spanish, graduating summa cum laude with Upper Division Honors in Psychology and both Phi Kappa Phi and Phi Beta Kappa distinctions. DeCuir-Gunby then attended the University of Georgia where she was the recipient of the Gates Millennium Scholar Fellowship and the Southern Regional Education Board Dissertation Fellowship. At the University of Georgia, she earned both her MA and PhD degrees in Educational Psychology in 2000 and 2003, respectively.
She has served as Co-PI on two National Science Foundation funded grants, totaling over $4.3 million: Nurturing Mathematics Dreamkeepers (DRK-12 Grant) and Peer Mentoring Summits for Women Engineering Faculty of Color (ADVANCE Leadership Award Grant). Both grants used mixed methods approaches, were multidisciplinary, and explored important issues in diversity and STEM. Her work has been featured in top-tier journals such as Contemporary Educational Psychology, Educational Psychologist, Educational Researcher, and Review of Educational Research, among others. Dr. DeCuir-Gunby has recently finished four book projects. The first book discusses the results of a multi-year, mixed methods teacher professional development study that merged critical multiculturalism and mathematics. The second book is an edited collection that explores the importance of examining race and ethnicity in the study of motivation in education. The third book discusses and demonstrates how to create mixed methods research proposals. Last, the fourth book explores the methods and methodological approaches used by Critical Race Theory experts in education research.
She currently serves on the editorial board for Contemporary Educational Psychology and is a former associate editor for the American Educational Research Journal.
Dr. DeCuir-Gunby has received numerous awards. In 2012, she was inducted into the NC State University Academy of Outstanding Teachers and received the NC State University Alumni Association Outstanding Teacher Award. In 2013, she was awarded the inaugural NC State University Faculty Scholar award which recognizes academic leadership and achievement. In 2018, DeCuir-Gunby received the NC State Alumni Association Outstanding Research Award for outstanding research and was inducted into the Research Leadership Academy for leadership and mentoring in research. She was awarded the University of Georgia's College of Education 2015-2016 Outstanding Educator Award for alumni.
Conference Theme
Complex and Critical Perspectives on Learning
The focus for the 2019 conference was exploring complex and critical perspectives on psychological processes in education in order to reimagine existing strands of research and generate new trajectories for the field. Like our host city for SCIPIE 2019, the field of educational psychology has a rich yet contentious history. The turn of the century brought new challenges and opportunities for the field, as well as new questions: How will we organize ourselves for continuous generativity and principled innovation in educational psychology? How can we honor intersectionality and enrich our interdependencies with the larger field of educational research? What new commitments should educational psychologists make to the society we seek to serve? How can we uniquely contribute research that can inform emerging innovations in learning?
Two areas where educational psychology has begun to make advances is by recognizing the underlying complexity of educational phenomena, as well as the ideological, cultural, political, and historical forces that shape power and privilege embedded in our understanding of learning. Educational psychologists increasingly recognize that phenomena in educational psychology manifest at multiple levels of analysis (e.g., intra-person, intra-group, inter-person), each with their own domain specific, contextual influences and patterns of change. Yet, we continue to wrestle with aligning theories and methods that fully appreciate phenomena of interest as fundamentally complex, that illuminate the processes and dynamics of learning, interdependencies among levels, and describe complex, dynamic, and emergent processes of learning.
Furthermore, pressing current and future issues of education compel us to seed new conversations about power and opportunity. We invite sessions that connect traditional educational psychology constructs to critical and sociocultural perspectives to explain psychological processes in social context; for example, critical and post-structural race theories, queer theory, settler-colonial theory, and critical pedagogy as approaches to examining the role of social, cultural, and political factors in studies of psychology in education (including implications for theory and methods), process-oriented accounts of how individuals' broader social and cultural lives inform educational activities, process-oriented accounts of how individuals interface with the group/collective level, and equity and social justice implications for researchers and/or practitioners.